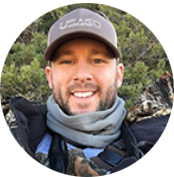 From the desk of Taylor Wood
Founder, United States Association of Gun Owners (USAGO)
May 1, 2023
Hello Gun Owners and Outdoors Enthusiasts!
Hello, my name is Taylor Wood and I'm the founder of a brand new organization dedicated to delivering incredible savings and providing outstanding education benefits you will love.
The United States Association of Gun Owners (USAGO) is a membership-based organization that benefits all gun owners, survivalist, preppers, hikers, campers alike by provide high quality products at wholesale pricing. Something we all want.
I have always been a hunter and outdoorsman... but a few years ago, I bought a gun for personal protection and found almost no resources to save on buying accessories I needed and educational resources I could trust. So, I started a Facebook group to bring folks like me together, so we could share our knowledge, experiences and help each other.
To my surprise, thousands of gun owners and outdoor enthusiast got involved and participated in the new community I started. So, I wanted to do more for all the folks seeking what I was looking for: products at great pricing, educational materials and like-minded people who loved shooting, hunting and the outdoors.
So, I started the National Concealed Carry Association and it took off. But I soon realized that I could make it even better... and open up the group for ALL gun owners.
With a great team, I started the United States Association of Gun Owners, USAGO, and we created an awesome website with over 45,000 products at Wholesale Pricing , Free Shipping*, Free Ammo*, Free Gun Transfers*, Guns & Ammo Giveaways, Private Member-Only Online Community, and Incredible Educational Platforms (such as podcasts and training videos), as well as some awesome clubs such as a Knife Club, Coffee Club, Target Club, and Shirt club - that Founding Members can join at a discount!
So, I invite you to join the thousands of members that are already enjoying the unbelievable savings everyday and learning so much from our team of educators. You will not be disappointed…..A membership you will value and love the savings…
I'm REALLY EXCITED to introduce to you the United States Association of Gun Owners!
This new Association celebrates the American freedom of Gun Ownership & Community by providing key 2nd Amendment Association benefits that give value to YOU, an American Gun Owner.

*select membership levels